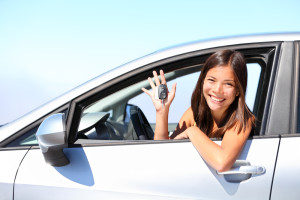 Chances are you couldn't wait to get your driver's license when you turned 16. However, you probably never guessed that there would be so many steps you had to take before you could get on the road, or that even after receiving your license, you still have to navigate numerous laws and restrictions until you turn 18. Teen driving may be difficult, but this guide can help clarify a few questions you may have.
When is a teenager eligible to acquire their learner's permit?
The minimum age to receive a learner's permit in Connecticut is 16. You must have a learner's permit before beginning to learn how to drive; you can apply for a permit by scheduling an appointment at your local DMV office.
What is required by Connecticut law in order to obtain a learner's permit?
To receive your learner's permit as a 16 or 17-year-old, you must first obtain parental consent, and collect the necessary paperwork that can serve as identification (for example, your birth certificate or U.S. Passport). Then, you can schedule and pay the $40 test fee for your DMV appointment online through the Connecticut DMV website. At your appointment, you must take and pass a vision test and a knowledge test, which determines your knowledge of Connecticut driving laws with 25 questions.
What are the restrictions for drivers with only a permit in the state of CT?
Restrictions on teen driving include limiting your passengers to parents, guardians, or qualified instructors while you are training to receive your license; you also may not use any cell phones (even if hands-free) while driving.
What training courses are required? What must a driver complete before becoming eligible for a driver's license in CT?
A driver must complete 40 hours of practice driving and 30 hours of classroom training (or 22 hours of home training and an 8 hour Safe Driving Practices course). To fit these requirements, a driver may choose a commercial driving school, driving classes at his or her high school, or home driving lessons. Once at least 120 days of classroom training or 180 days of home training have passed, the driver is eligible to take the road test at the DMV and obtain a driver's license.
What are the legal restrictions for teenage drivers up to the age of 18?
Before turning 18, teen drivers may not drive between the hours of 11 PM and 5 AM, unless it is for school, work, religious, or medical reasons. They must also use permanently installed seat belts, and may not use cell phones or hands-free devices while driving. For the first six months after receiving their license, drivers can only have parents, guardians, instructors, or people over 20 (who have held a driver's license for at least 4 years) as passengers; for the second six months, this is expanded to include immediate family.
In addition to these restrictions for teenage drivers, Connecticut law requires drivers of all ages to purchase automobile liability insurance. Provide yourself peace of mind and contact Waitte's Insurance Agency, Inc. to add your teenage driver to your current insurance policy.